Back to school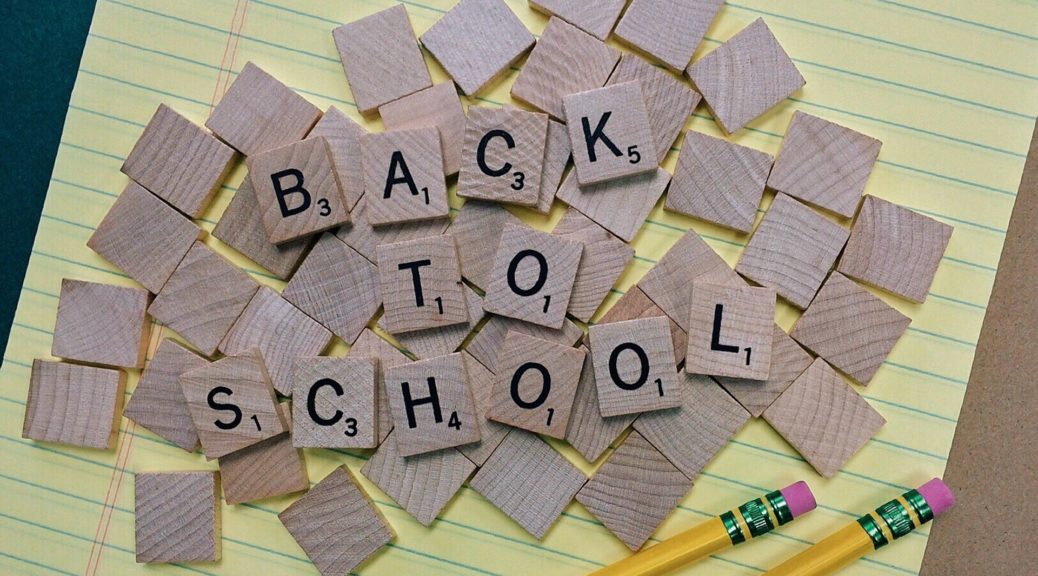 Back to school
24-01-2017
It's that time of year again, and I feel like every other parent at the end of summer: ready to do battle. Battle with who, you may ask? My daughter, the shopping assistants, or anyone else that gets in my way when I'm purchasing school stuff. Even though my daughter is 15 and heading into her last year of secondary school, back-to-school time is always a HEADACHE.
This summer was so different from all the other summer holidays because my daughter had things to do for school and I only had to buy school shoes.
I was getting emails from her school telling me all the things she needed to be doing over the summer to prepare for her impending GCSE exams. She was spending the days of her holiday reading over her previous work so as to make sure she would be ready for her final year. I must admit that I was really proud that she was getting down to her studies and not just complaining about it. OK, she did complain about the teachers not telling her all of these things before the last school year had finished, but that's a teacher's prerogative, I told her. Her major gripe, if I can actually call it that, is that they ended every email or text message with, "Enjoy the rest of your summer." To her, this was simply adding insult to injury.
To her credit, she got on with it without another word.
Planning back-to-school seemed a lot easier now that shoes were the only thing I had to buy. I remember the days of rushing out to get the school uniform. Not too early in case they grow before the school year starts, and not too late that you have to wait until certain items come back into stock.
How foolish I was thinking that simply purchasing shoes for a 15-year-old would be easy. As it turns out, it was an absolute nightmare. This used to be such a simple process: Go to Clarks, get her measured, pick the shoes, get them fitted, and pay.
This time, the process goes something like this:
"Let's go and buy you some new school shoes."
"Where are we going?" she responds.
"Shoe shops, let's go!" I tell her.
After looking in lots of shoe shops we walk away with nothing. Either nothing fits, or the shoes look like they won't last a week, much less a term. Some are out of stock and some are simply just plain ugly. "OK," I say. "Let's head to Clarks."
Now this is where my real stress begins.
"Why are we shopping in Clarks? Their shoes are ugly."
"Just have a look."
"Mum, have you seen their shoes?"
"Just look!"
After milling around for about five minutes she points to a pair of shoes. Thank God, I tell myself. "Can we have these in a size 6 and a half, please?" I tell the sales assistant.
We all knows what happens when the sales assistant returns. "Sorry, we don't have that size. Would you like to try a size 7?"
My daughter responds quickly with, "No, thank you."
I cut her off and tell the assistant, "Yes, please."
More moaning. The assistant returns with the size 7. Of course it's too big. What was I thinking? I know exactly what I was thinking: "Please, God, let these fit. I just want to go home now." My daughter is loving the fact that she was right and I was wrong. We have been shopping for shoes for two days now and I am tired. My daughter is happy to stick with her old shoes until we find another pair after school has started. I request that the sales assistant check other stores for that size.
The following day I travel across London by myself (of course) to pick up the size 6 and a half. I get home; she tries on her new shoes. Hooorrraaaaay, they fit. The whole shoe experience has left me tired and feeling traumatised. I am so glad that back-to-school shopping has ended, and that shoes were the only thing on the list. Then my daughter says, "Mum, I forgot to tell you, I need a new PE kit." At that I say, "Pass my laptop, I am ordering this online." Job done. She is ready for school and it's now back to normal life for me.
Thank God for September!